This weeks Five Friday Favs was a topic requested by one of you and I love it! At first I wasn't sure how I would narrow down the items I carry/use most to just five items….but the more I thought about it, the more I saw a pattern. No matter what bag I'm carrying or what adventure I'm packing for, there is a solid handful of items that I always have. Today I'm going to share those items and why they're favorites of mine!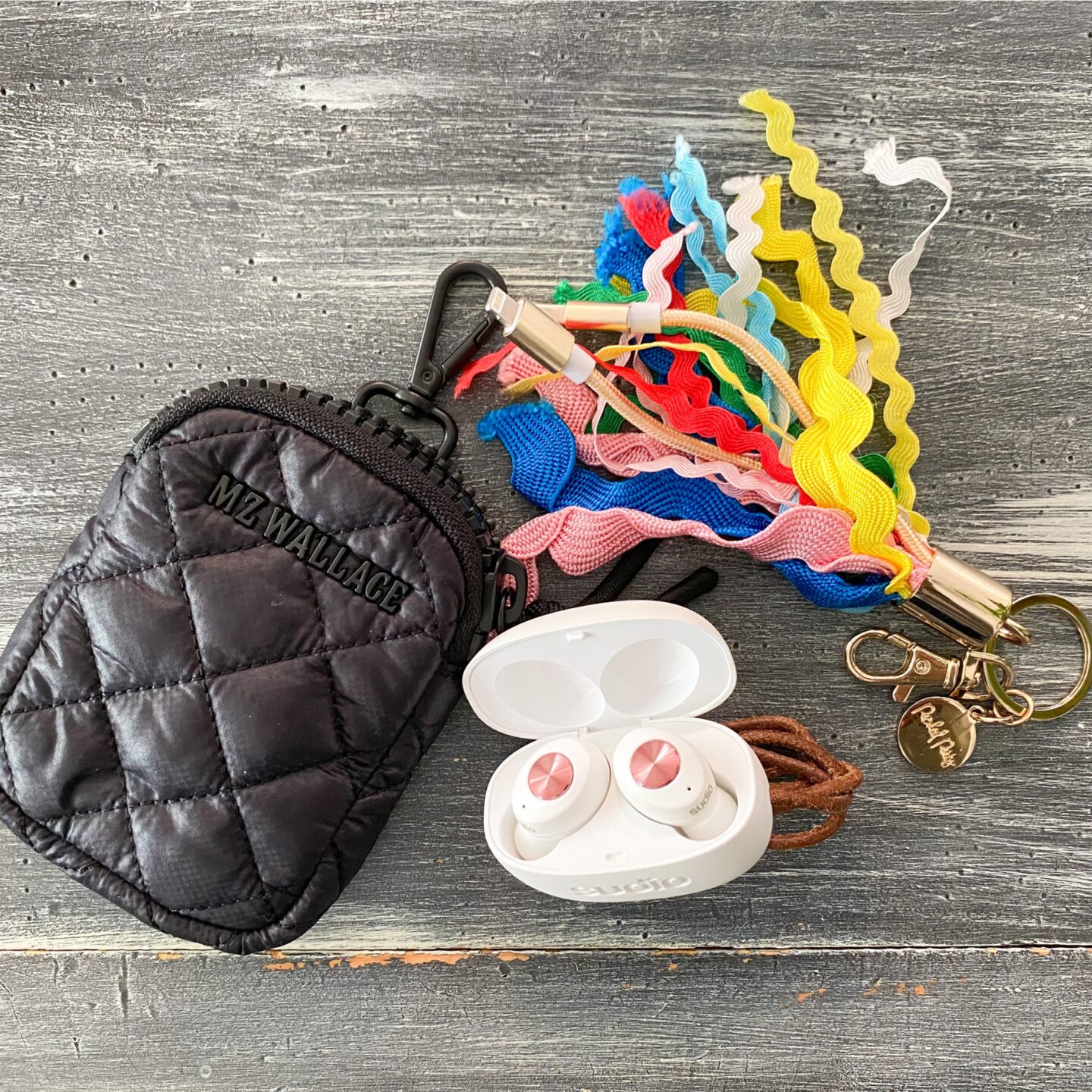 I love my sudio earbuds and always have them on me! I've carried them in a number a small pouches to keep them easily accessible and safe but my favorite are the small and medium link pouches from MZ Wallace. They don't always have them available but do restock! I also LOVE my packed party confetti charger….I can't tell you how many times I have needed that!
SHOP Sudio HERE: https://www.sudio.com/us/tolv-white
SHOP MZ Wallace HERE: https://bit.ly/gatormommzw
SHOP Packed Party HERE: https://bit.ly/gatormompackedparty
Never thought I would be talking about this for a blog post favorite but here we are… For the last, almost year now, two of the MOST USED items in my bag have to do with safety. My absolute favorite face masks are made by kitsch…and believe me, I have tried what seems like hundreds! They are the only ones my daughter and I will wear! They are lightweight, super comfy and wash up great. We also LOVE our Touchland hand sanitizer power mists…they really are the best! They smell soooo good, cover your entire hand when spraying, dry fast and don't leave your hands feeling all gross after you use.
SHOP Kitsch Face Masks HERE: https://bit/ly/gatormomkitsch
SHOP Touchland HERE: https://gatormomtouchland
Let's Chat about PLANNERS
It would be hard for you to find a packing video of mine that didn't have a planner of some kind in it! I'm a paper planner gal…get those electronic calendars away from me haha. I have tried many over the years and tend to stick to my favs. The past few months I have REALLY been enjoying my Erin Condren Folio system. I can customize the journals inside to whatever I need and its compact enough to fit in almost any bag!
SHOP Erin Condren HERE: https://bit.ly/gatormomec
The Famous Healer Stick and Hand Creams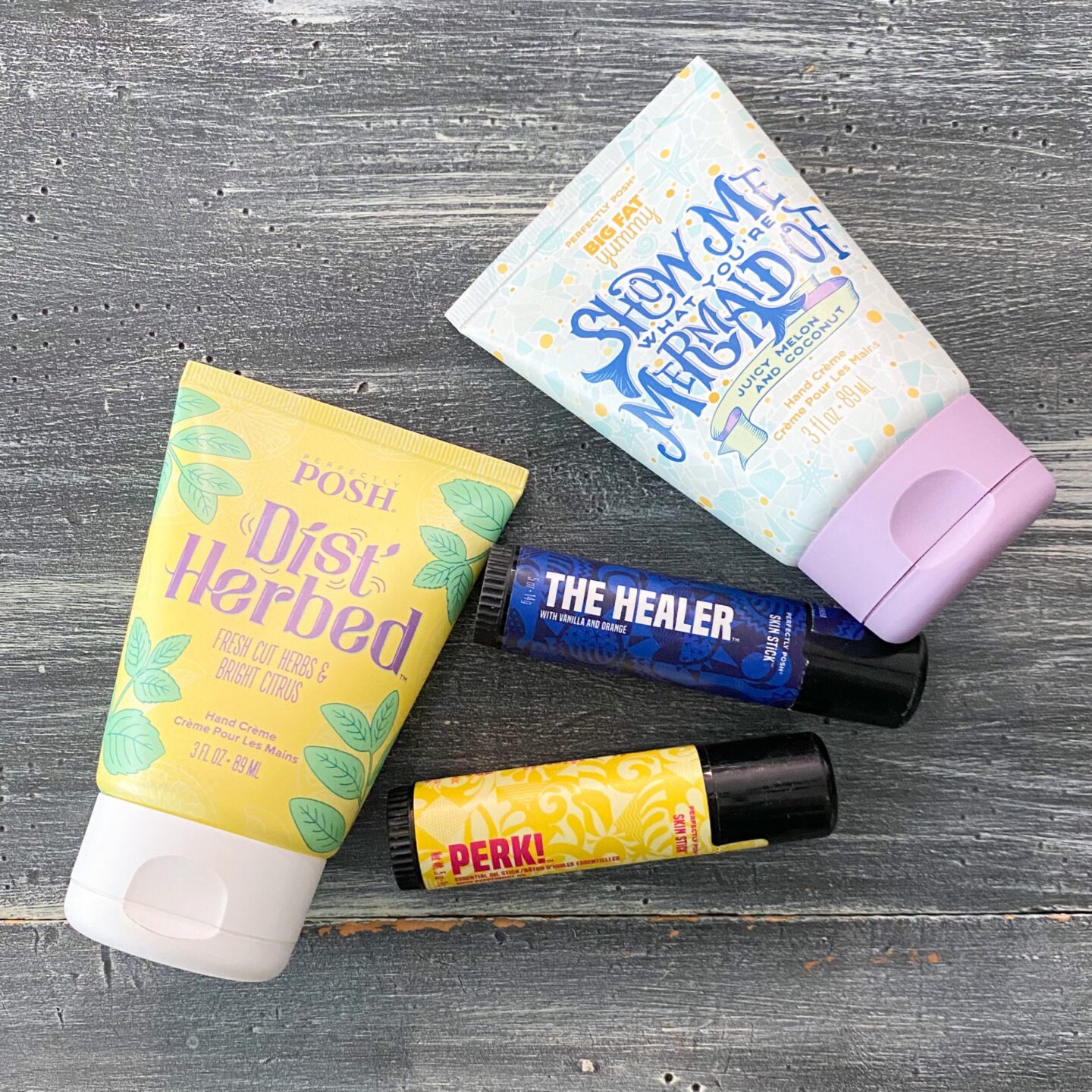 I have been using Perfectly Posh hand creams and skin sticks for years!! Ever since my kids were little bitty babes…I have never left home without a healer stick. They are perfect for any skin irritation, bruised knees when falling and any kind of rashes! We've used it even more with my kids being in sports. I've tried a lot of hand creams and continue to try but ALWAYS come back to the big fat yummy hand creams. They smell soooo good and never leave my hands feeling greasy.
SHOP Perfectly Posh HERE: https://getposhwithashley.po.sh
I wouldn't have guessed this to be a favorite of mine until I looked back on past videos. The O-Venture Big O key ring has been featured in almost every single packing video…so I must like it a lot! They come in a variety of colors/materials and make it really easy for me to always find my keys!
SHOP O-Venture HERE: https://bit.ly/gatormomoventure
There ya have it friends! My Five Friday Favs for the week! I would LOVE to know in the comments below what you always carry in your bag or diaper bag? Do you have topic you would like to see me feature in a Five Friday Favs?? Leave it below!
Looking for a link to a product mentioned today or in one of my IG/TikTok posts? Try HERE: https://gatormom.com/shop-my-favs Some links featured on this post and linked throughout my website may contain affiliate links. Thanks so much for shopping through them. I appreciate you always thinking of me! 🙂
Have the BEST day,
Ashley