It's been almost a year since our Modern Farmhouse Kitchen renovation! There's 2 features in our kitchen that I have found to be not only my favorite but the most functional stations in this space. Today I'll be sharing why I love our prep area and our new beverage bar!
A BIG Thanks to Verona Appliances for partnering with me on today's blog post!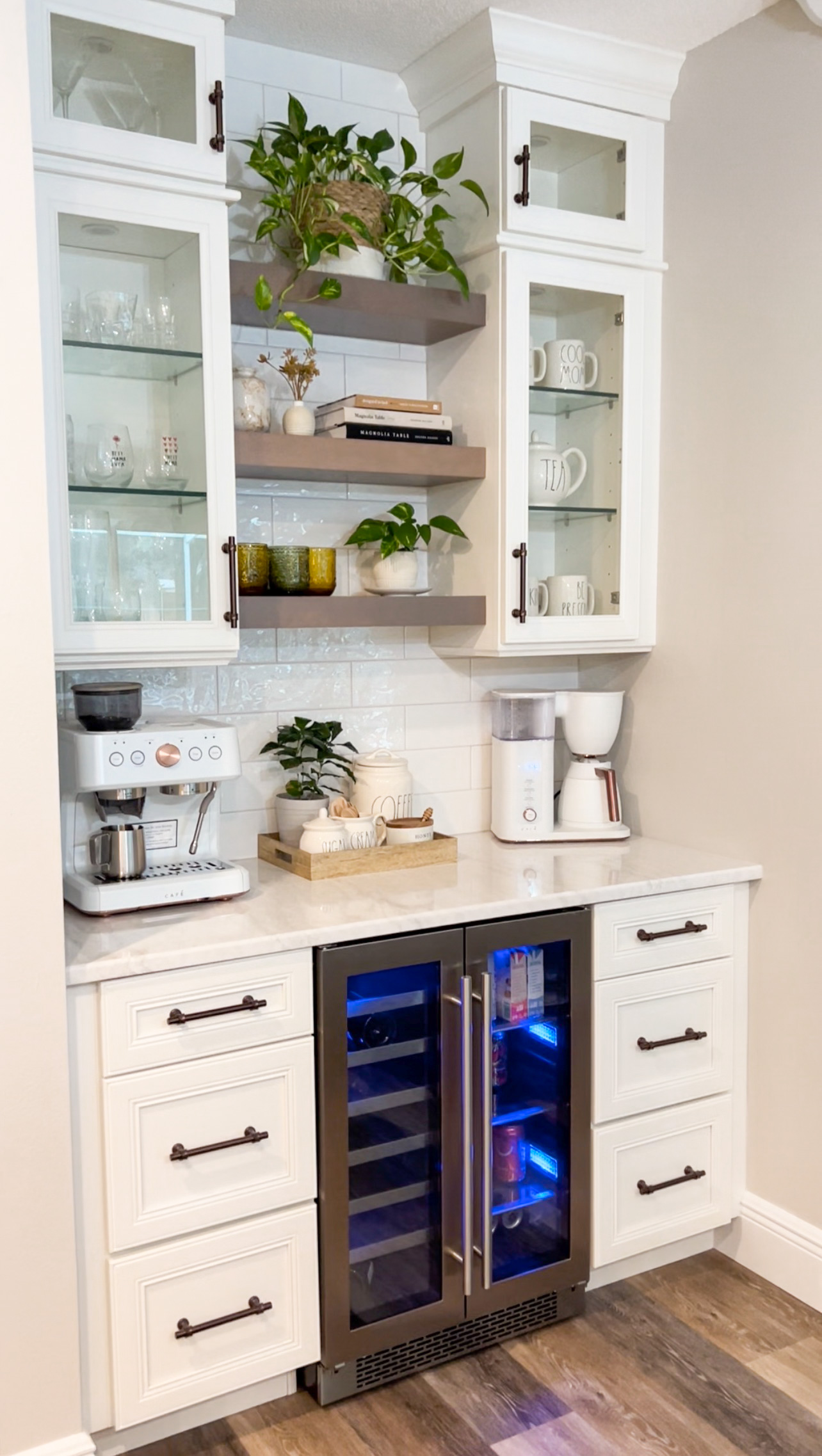 Let's talk about the Prep/Cook Station of this Kitchen!
This area was designed with function in mind! Coming from a kitchen that had zero work flow, I knew I wanted a space that had a designated prep/cook area. This corner of the kitchen was an empty dysfunctional hole in the previous layout with a large wall oven that took up far too much footprint. One of the best decisions I made with this spot was adding a prep sink! I wanted to really use this area and not waste a single ounce of counter top space and a prep sink was a perfect addition!
I wanted the focal point of the kitchen and the main anchor of this cook station to be a large wooden hood with a beautiful freestanding range. I couldn't be more pleased with the Verona Designer Range we selected and the way it accents our wooden hood perfectly! Not only is this piece energy efficient and functional, it's also such a design highlight! I did a full blog on our Verona 36 inch designer induction range HERE if you would like more details. I also added a pot filer above the range. I know this addition may be a touchy subject…I feel like you either love the function and look of a pot filer or you don't. After working in this space for a few months now, I'm so happy we added one!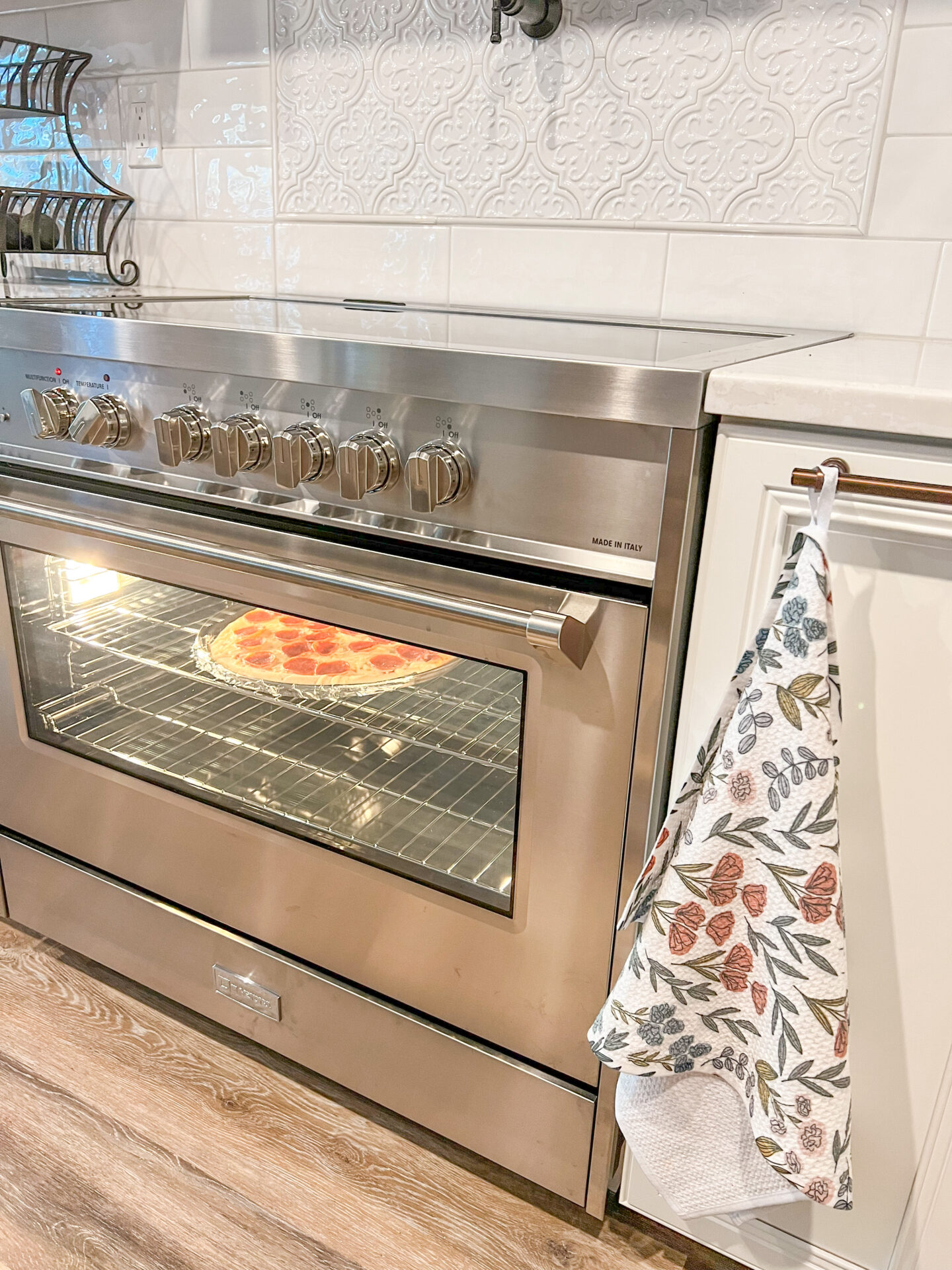 Some of the organization features I added to this prep area include large oversized drawers for pots and pans instead of cabinets, a knife block drawer, spice drawer and utility pullout for all of our large cooking utensils. Everything I need to prep or cook is in one central location instead of me having to find things throughout the kitchen.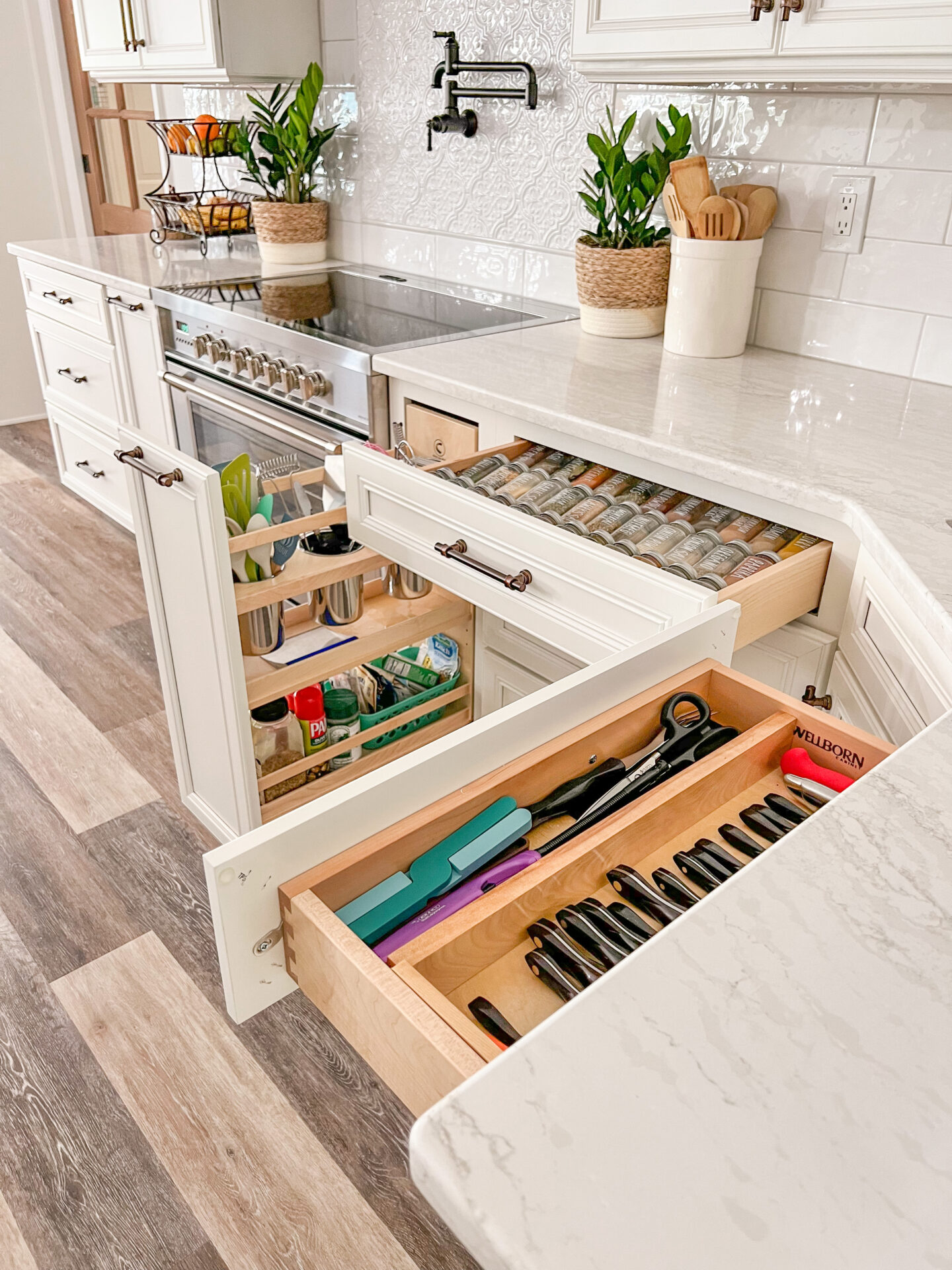 Let's talk about the Coffee/Wine/Beverage Bar!
I'm obsessed with how this area turned out!! I had a vision of what I wanted the design to look like and how I wanted it to function but it far acceded my expectations! Before I talk about this little wall, I want to talk about one regret I have. We were going to originally install an ice maker here and design wise, we just couldn't make it work. Looking back and now seeing how this space functions, I really wish we would have made it happen!
This bar area was a deep dysfunctional pantry prior to our renovation. The doors would come off track every time they were opened. The wooden shelves were deep making things impossible to reach in the back. They were not only deep but wide and started to bend in the middle. I thought they would break at any moment! I knew this space had to be completely transformed!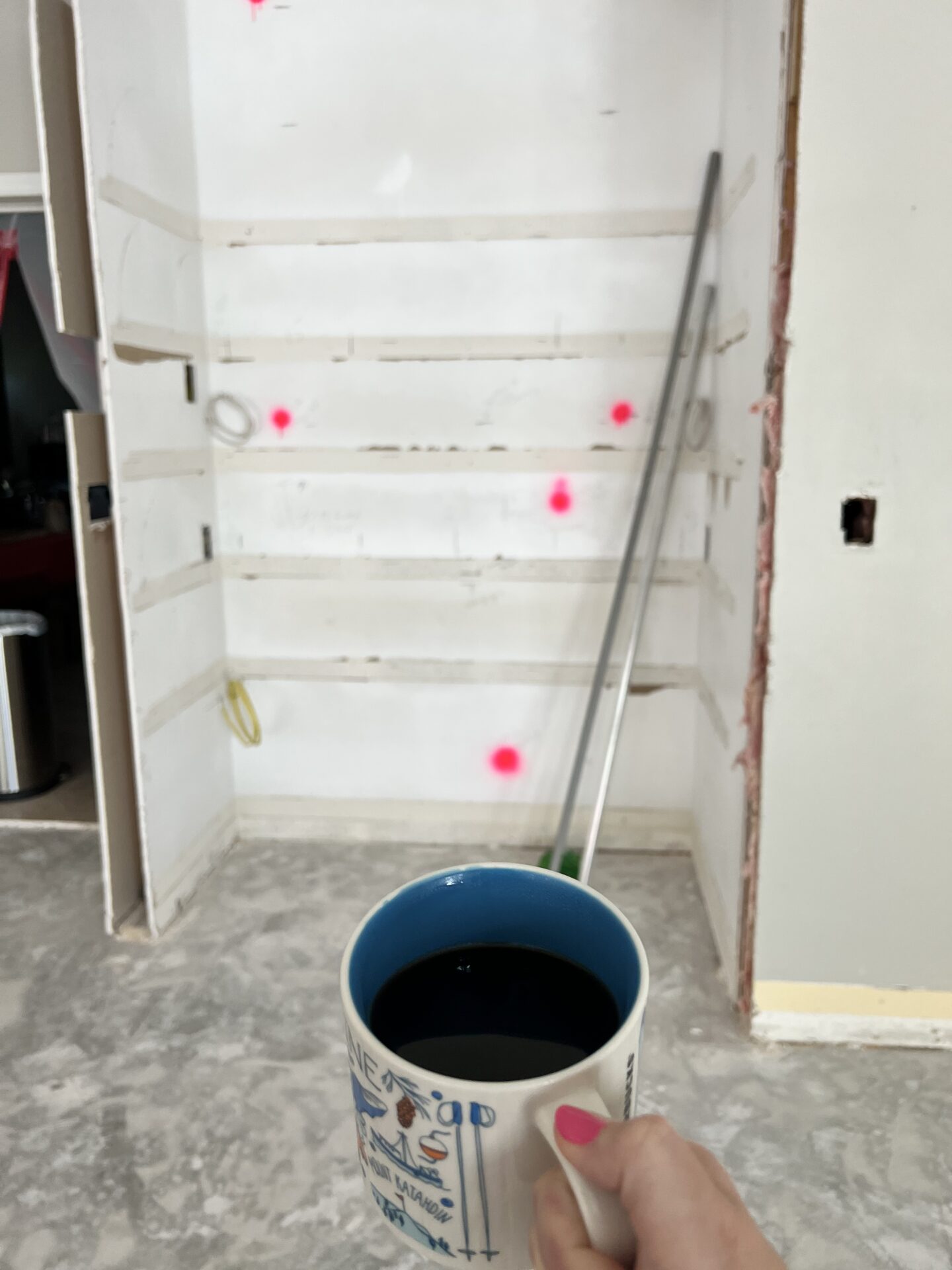 One of our most used appliances in our renovation is our Zephyr French Door Wine and Beverage Cooler. One side holds our small selection of wines while the other can be a cooler temperature for canned beverages and coffee creamers. The bottom drawers are the perfect size to hold our coffees, teas, protein powers and anything we use to prep drinks of all kinds! I love the that we added glass to the front of the top cabinets with the floating shelf accents. They are so fun to decorate for the holidays! The wooden color of the floating shelves is the same as our range hood, large island and the shelves above our built-in entertainment center. It all flows perfectly together!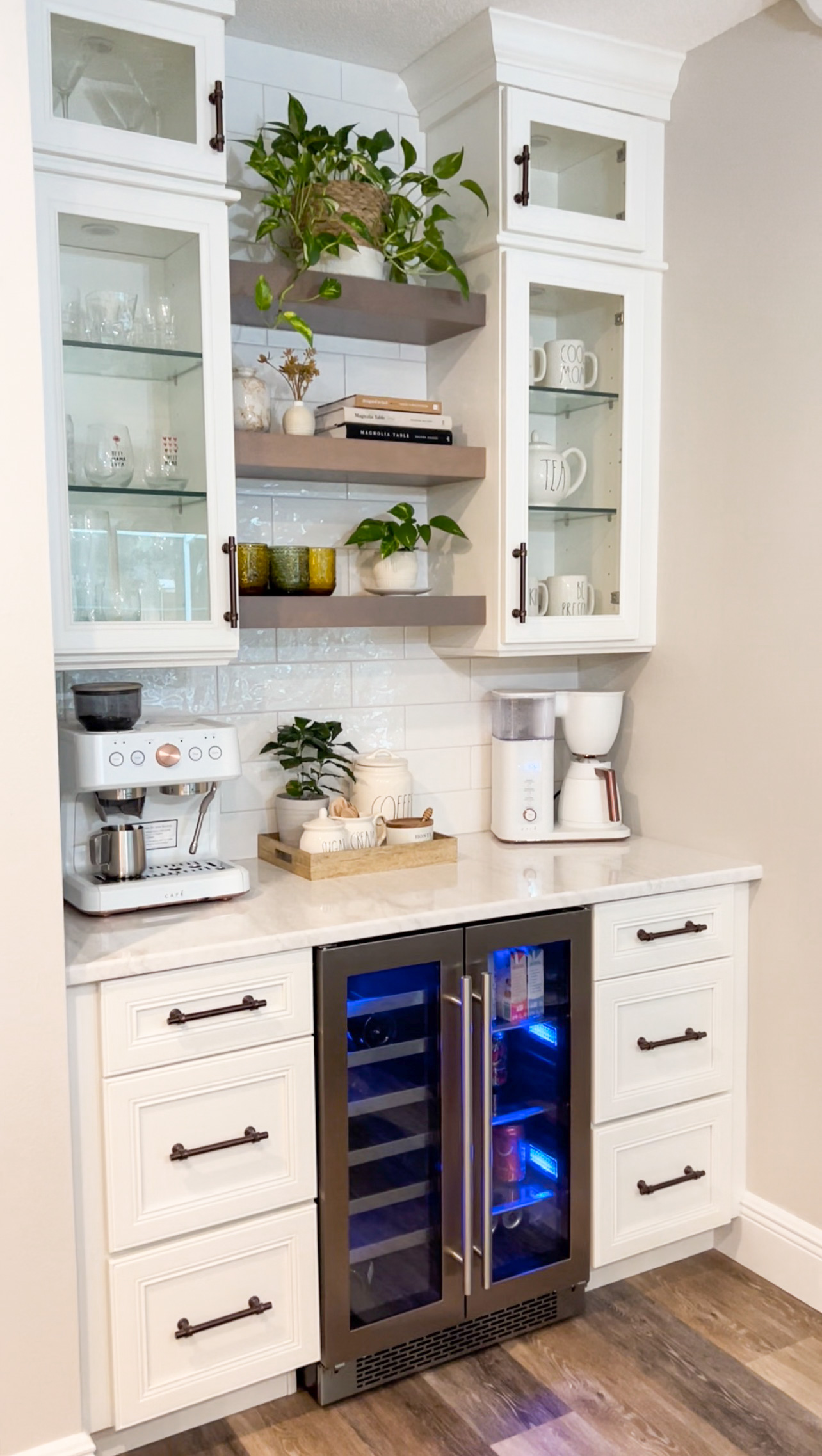 I think that does it for today's blog post! I hope this gave you some inspiration for designing or upgrading your kitchen! I would like to thank Verona Appliances again for partnering with me on today's post!
Have the BEST Day!
Ashley 🙂